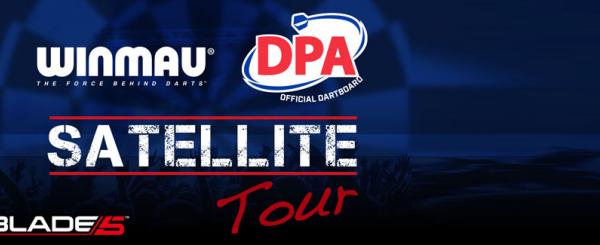 The Winmau Satellite Tour Continues this weekend at Warilla Recreation and Bowls Club
Stay Tuned to Dartplayers Australia for all the latest News and results.
Round Robin – 501 best of 5 legs.
Top 4 from the Group progress to the Knockout
Knockout - 501 best of 7 legs.
Final – 501 best of 9 legs.
We have 55 players in attendance today.
FINAL
Justin Frey 5-3 Mitchell Clegg
Top 4
Alex Clark 3-4 Justin Frey
Chris Donaghy 1-4 Mitchell Clegg
Top 8
Alex Clarke 4-1 Scott Johnson
Justin Frey 4-1 Shane Wolter
Clayton Collins 1-4 Chris Donaghy
Mitchell Clegg 4-3 Mike Bonser
Top 16
Joel Hynd 2-4 Alex Clark
Scott Johnson 4-1 Mark Wortley
Manny Kato 3-4 Justin Frey
Shane Wolter 4-2 Terrance Insley
Peter Wilmont 3-4 Clayton Collins
Chris Donaghy 4-2 Craig Woodroffe
Luke Hudson 0-4 Mitchell Clegg
Mike Bonser 4-3 Mark Taafe
Top 32
Joel Hynd 4-1 Andrew Eagers
Yorick Yon 1-4 Alex Clarke
Scott Johnson 4-3 Craig Hussey
Mark Wortley 4-2 Shane Horne
Manny Kato 4-2 Tony Welland
Justin Fray 4-1 Ben Clake
Shane Wolter 4-2 Mick Anderson
Terrance Insley 4-1 Jason Dewey
Peter Wilmont 4-1 Aaron Gardner
Clayton Collins 4-0 Terry Charlton
Chris Donaghy 4-1 Winston Coppini
Brad Johnson 3-4 Craig Woodroffe
Luke Hudson 4-3 Pokotea Munokoa
Mitchell Clegg 4-2 John Bunyard
David Cairns 1-4 Mike Bonser
Mark Taafe 4-0 Leon Lovett
Group A
Mitchell Clegg
Joel Hynd
Craig Hussey
Matt Clarke
Leon Lovett
Margaret Eagers
1st – Joel Hynd
2nd – Mitchell Clegg
3rd – Craig Hussey
4th – Leon Lovett
Group B
Mark Wortley
Pokotea Munokoa
Danny Bunyard
Paul Hill
David Cairns
Alex Clarke
Mark Johnson
1st – Mark Wortley
2nd – David Cairns
3rd – Alex Clarke
4th – Pokotea Munokoa
Group C
Clayton Collins
Issac Munokoa
Manny Kato
Cody Dewey
Mick Anderson
Farren Lamb
Craig Woodroffe
1st – Manny Kato
2nd – Clayton Collins
3rd – Mick Anderson
4th – Craig Woodroffe
Group D
Brendan Porter
Aaron Gardner
Terrance Insley
Alf Wyatt
Chris Donaghy
Ben Clarke
Darren Wolter-Gumley
1st – Terrance Insley
2nd – Chris Donaghy
3rd – Ben Clarke
4th – Aaron Gardner
Group E
Peter Wilmont
Nathan Walsh
Matthew Eagers
Justin Frey
Jason Dewey
Winston Coppini
1st – Peter Wilmont
2nd – Justin Frey
3rd – Winston Coppini
4th – Jason Dewey
Group F
Russell Northey
Cohen Timoti
Tony Welland
Shane Wolter
Judy Neaves
Terry Charlton
Brad Johnson
1st – Brad Johnson
2nd – Shane Wolter
3rd – Terry Charlton
4th – Tony Welland
Group G
Mike Bonser
Lucas Gray
Yorick Yon
Luke Hudson
Shane Horne
Jeremy Hourn
Sapphire Allen
1st – Luke Hudson
2nd – Yorick Yon
3rd – Mike Bonser
4th – Shane Horne
Group H
Andrew Eagers
David Boyle
James Rogers
John Bunyard
Scott Johnson
Lavinia Hogg
Mark Taafe
1st – Mark Taafe
2nd – Scott Johnson
3rd – John Bunyard
4th – Andrew Eagers